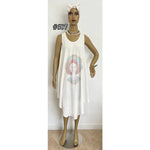 African-Stars
Women's White Bejewelled Kaftan -- FI-#607

The Women's White Bejeweled Kaftan is a stunning and elegant piece of clothing that exudes sophistication and glamour. This kaftan typically features a white fabric adorned with intricate bejeweled details, creating a luxurious and ornate look. Kaftans are known for their loose and flowing silhouette, providing both style and comfort.
Whether you're attending a formal event, a beach wedding, or simply seeking an opulent and fashionable attire, the White Bejeweled Kaftan offers a chic and versatile choice. It's perfect for those who appreciate the fusion of luxurious embellishments and the timeless comfort of kaftan-style clothing in their wardrobe.
Please note: Our sizes are one size fits most.
---
Share this Product
---
More from this collection