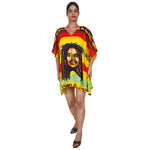 African-Stars
Bob Marley Flowy Mini Dress

The Bob Marley Flowy Mini Dress is a stylish and fun dress inspired by the iconic musician Bob Marley. This dress typically features a flowy and relaxed fit, allowing for comfortable and free-spirited movement. The reference to Bob Marley in the name suggests a connection to reggae culture and music, making it a fashionable choice for those who appreciate both comfort and the iconic style of Bob Marley.
Whether you're heading to a music festival, a summer party, or simply want to make a statement with your fashion, this flowy mini dress provides a chic and laid-back option that pays homage to a music legend. It's a versatile and trendy choice for those who enjoy the fusion of comfort and iconic style in their clothing.
Please note: Our items are one size fits most.
---
Share this Product
---
More from this collection