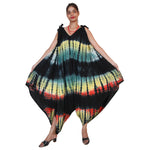 African-Stars
Women's African Rasta Sleeveless Tie Dye Jumpsuit -- FI-3023

Women's Rasta Tie Dye Wide Jumpsuit -- FI-3023


This jumpsuit features:
Tie dye Rasta colored print
Sleeveless with tie at shoulders
Wide fitting for a comfortable fit

Please note: Our items are one size fits most.
Elevate your summer wardrobe with our Women's African Rasta Sleeveless Tie Dye Jumpsuit, a vibrant and versatile addition to your fashion collection. This jumpsuit seamlessly blends the cultural richness of African aesthetics with the playful charm of tie-dye patterns. The sleeveless design is perfect for warm-weather outings, allowing for comfort and ease of movement. The Rasta color scheme adds a touch of individuality and cultural significance, making it an ideal choice for various occasions. Whether you're dressing up for a festival, a beach vacation, or simply seeking a bold and captivating fashion statement, this African Rasta Sleeveless Tie Dye Jumpsuit is the perfect choice for women who appreciate both style and the celebration of diverse cultural influences in their wardrobe. With this jumpsuit, you'll stand out with grace and confidence, showcasing a unique and culturally inspired fashion statement.
---
Share this Product
---
More from this collection