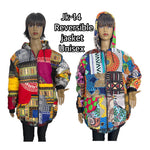 African-Stars
Unisex Reversible Print Jacket -- JK-14

The "Unisex Reversible Print Patchwork Jacket" redefines versatility and style with its innovative design. This jacket features a unique patchwork pattern, combining various prints and colors, creating a visually appealing and eclectic look. Its reversible nature allows for multiple outfit possibilities, ensuring a seamless transition between different styles.
The addition of a hoodie and drawstring not only adds a touch of urban flair but also provides practicality and protection against unpredictable weather. The full zip closure ensures ease of wear, while the inclusion of pockets adds functionality and convenience. Crafted with attention to detail and high-quality materials, this jacket is not only fashionable but also comfortable, making it a must-have addition to any wardrobe, regardless of gender. Embrace fashion without boundaries with this statement piece that effortlessly blends comfort, style, and versatility.
Comes in two sizes -- please choose your size using the drop down menu.
---
Share this Product
---
More from this collection
Small/Medium
Large/X-Large